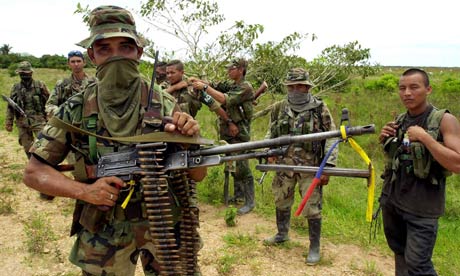 Latin America's longest running conflict between Colombia and the Revolutionary Armed Forces of Colombia (FARC) has come to an end. Colombian President Juan Manuel Santos and Marxist rebel leader Timochenko signed an agreement ending the long term war. "I can't believe this day has finally come," said an excited Juan Gamarra, 43, who sells jewellery in Cartagena. The UN has agreed to assist in the reintegration of the FARC. The US has also pledged $390m for Colombia to support the peace process next year. Millions of people were displaced from the war and thousands killed.
Rationale for Peace
Colombian forces have been dwindling FARC's numbers over the past years. The US government has been backing the Colombian army and police with millions of dollars and training. In 2008 FARC founder Manuel Marulanda died of natural causes. Senior rebel leader Raul Reyes was killed in a bombing raid the same year. Manuel Marulanda's replacement Alfonso Cano also died in a bombing raid in 2011. Estimated active fighters of 20,000 were reportedly dropped to 7,000 after thousands were disarmed or killed.
Reintegration of FARC Members
Many are upset as well as former president Alvaro Uribe that the rebels will enter parliament without serving any jail time. There will be a vote on October 2nd whether or not to ratify the agreement. Although many are outraged, this agreement will reduce the government expenditures on security. Many FARC members have been living in the jungle for long periods of time. There may be pressure to find opportunities for those that have lived those lifestyles.